Buying and renting property in Calpe, Spain
Sounds like a dream? In real organizing it doesn't have to be difficult. The Spanish real estate market is emerging from the crisis which was from 2008 to 2015. Currently the worst is behind us, but real estate prices nearby are at a very attractive level. What's more, good signals from the market confirm that the increase in property value is expected to continue in the coming years. This is a great opportunity to invest in real estate in Spain!
Another very good news is that you don't need to have a lot of cash to buy your own apartment in Spain. Banks open many credit options to stimulate the real estate market. Because of this one of the most attractive forms of buy property is a mortgage. The range of real estate prices in Spain is enormous. Starting from very cheap uninhabited apartment, through small country houses located away from the tourist area, for spacious and luxurious apartments located in the most popular resorts, which are breathtaking not only in design but also in price. So investment costs and return on invested capital will be very different depending on the property chosen.
Buying and renting apartament in Calpe - case study
To confirm that buying an apartment in Spain this is not an option reserved for a few we will analyze the purchase of an apartment in a tourist town Calpe for the price of 150.000 euro. The apartment was bought by one of our clients who decided to make their dreams of their own property in Spain come true.
Property selection - apartment in Calpe
The apartment was purchased at the beginning of 2017 and the holiday season 2018 is the second season of renting the apartment. The property was acquired in very good technical condition and did not require renovations. The apartment was intended to be a comfortable apartment for tourists who want to spend a quiet vacation on the Costa Blanca. That is why the apartment has been adapted and equipped respectively. The arrangement of the interior was aimed at improving its functionality and creating a modern design which will suit the diverse requirements of tourists. The client chose the West- European standard realizing that providing an attractive price averaged standard and friendly location will allow large occupancy of the apartment in the summer season
Deciding to buy an apartment slightly away from the center. The client was aware that tourists would book apartment during the holiday season. After the main season, the prices of renting apartments are cheaper and the availability of top apartments increases, and at the same time the interest in apartments on the outskirts decreases. However, off-season occupancy was not a problem because the client wants to spend at least a few weeks a year on her own apartments for her needs - rest with family and free sharing with friends.
The choice was for an apartment in Calpe - historic town on the Costa Blanca which is located about 60 km from Alicante. Calpe is a water sports mecca and a great place for beach lovers. The city offers great opportunities for active leisure, encouraging mountain climbing and admiring nature reserves. A developed tourist resort that attracts with a rich night life during the holiday season
Apartment in Calpe – equipment
The purchased apartment in Calpe did not require big renovation. Only costs were incurred for buy towels, kitchen utensils, curtains - therefore relatively small costs associated with interior design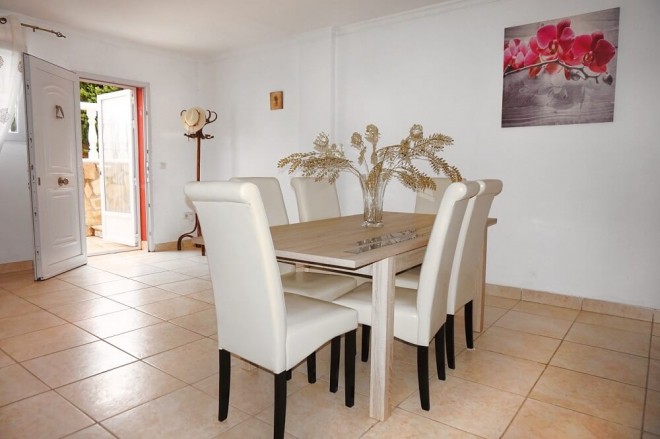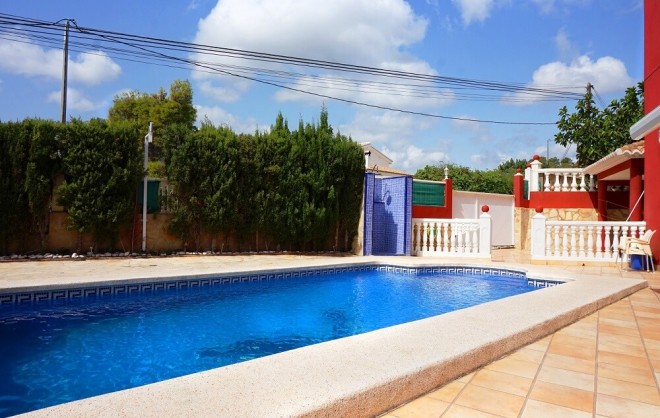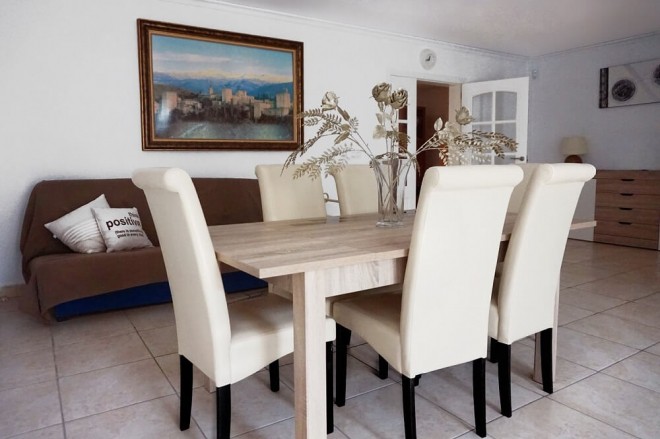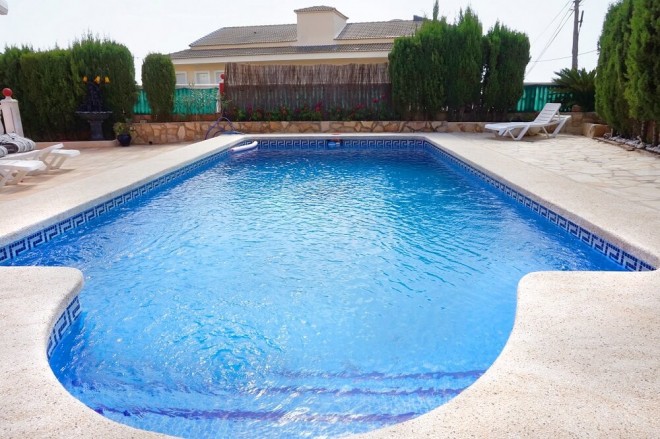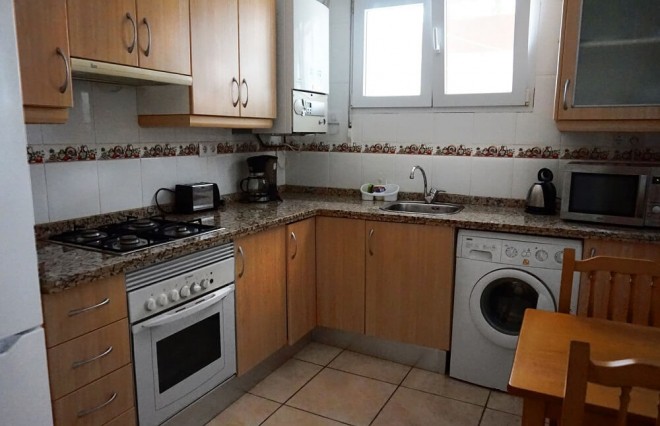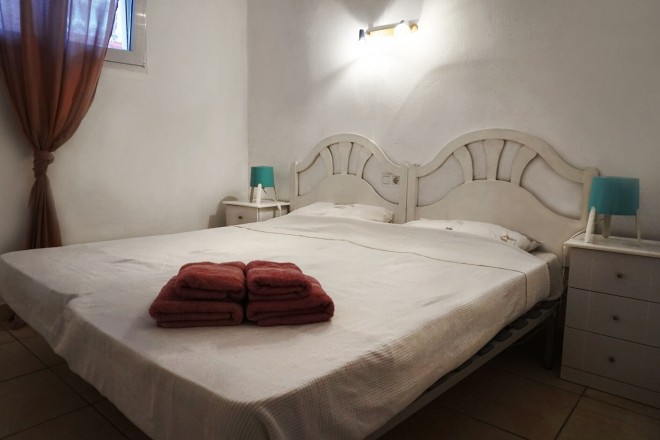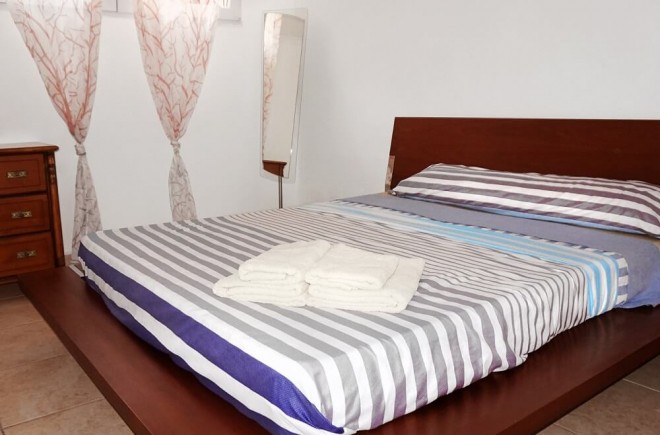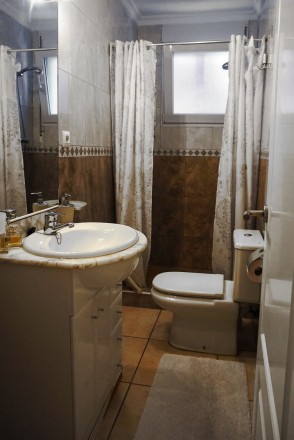 Apartment – 100m2:
2 bedrooms
living room with sofa
kitchen
bathroom
Equipment
swimming pool - Guests can use the pool, which is located a few meters from the entrance. The pool is shared with other tourists
parking on the street
animal accepted
heating
wash machine
air conditioning in the living room
internet
Distances from the apartment:
to the beach 2 km
to the center 2 km
to shops and restaurants approx. 1.5 km
Apartment location:
The apartment is located in a quieter part of the city - That's why it's best to get there by car. The garden and greenery around the apartment create favorable conditions for relaxation and rest.
How much is the purchase of an apartment in Spain on loan?
In the town of Calpe you will find a huge selection of real estate. Houses prices start from 80.000 euros but of course we can easily find beautiful villas for 995.000 euros and more. Check more offers here property for sale in Calpe
Described by us apartment cost 150.000 euros.
Below we present the calculation of buying an apartment in a 25-year mortgage.
The value of the apartment - 150 000 euro
Taxes and fees associated with the buy and mortgage– 21 000 euro
Value of the apartment + taxes and fees - 171 000 euro
Own contribution 30% - 51 300 euro
Total Mortgage – 120 000 euro
Loan installment for 25 years – 600 euro / month
Tourist rental – assumptions
From the beginning of 2017, the apartment was put up for tourist rental. The guests of the apartment were mainly tourists from Western Europe. The apartment was chosen primarily by people who value peace and privacy. It is mainly rented to families with children. Good price and quality translated into a large number of reservations. The apartment has standard check-in around 14.00 and check-out around 10.00.
Additional costs and rental conditions
minimum length of stay - 3 days
deposit in case of damage - 200 euros
fee for cleaning the apartment - 50 euros
Apartment occupancy in 2017
According to the assumptions, the highest income is generated in the summer months July and August. we can distinguish three periods:
High season by far the highest rental profitability occurs during the holiday months in July and August .Then you can count on the highest occupancy rate at relatively high rental prices. The occupancy is at 90%
Medium season - we consider June and September as the medium season are the months in which the owner of the apartment can focus on short-term rentals mainly for students, to a lesser extent for families with children.
Off season - it's really the majority of the year from January to May and from October to December the occupancy rate is at 20%. In May and December, the occupancy is higher and prices can be set at a higher level. In the remaining months it is worth focusing on long-term rental that is, the possibility of renting an apartment for a few weeks assuming an average rate for the whole month at the level of approx. 700 euros / month. Alternatively, it is also a great time to use the apartment for your own needs. In this case, the off-season apartment was shared with family and friends while the calculations will include the case when the owner decides to rent for a long term. Assuming an income of 700 euros / month for a period of 8 months, We are able to get such income while reserving the apartment for about 8 weeks for own needs.
Occupancy distribution in individual months
| | | | | | |
| --- | --- | --- | --- | --- | --- |
| Period | January - May | June | July, August | September | October - December |
| Occupancy | 20% | 63% | 90% | 63% | 20% |
| Price | 700 euro / month | 100 euro / month | 169 euro / month | 100 euro / month | 700 euro / month |
Income from renting a tourist apartment in Spain
Period

High season

(July August)

Medium season

(June September)

Off season
(January, February, March April May,October, November, December)
Occupancy
90%
60%
Long term
Price
169 euro / day
100 euro / day
700 euro / month
Calculation
169 euro x 62 days x 0,9
100 euro x 60 days x 0,6
700 euro x 8 months
Income
9 430,10 euro
3600 euro
5600 euro
Costs related to tourist rentals
When deciding to allocate an apartment in Spain for tourist rentals, we must take into account the costs of:
property tax - approx. 450 euros per year
rental tax - 19%
maintenance fees (consumption of utilities, purchase of small items of equipment) – 200 Euros / month
promotion costs - all customers are acquired via the Airbnb platform, which is why previous reservations were obtained without marketing outlays.
cleaning fees - a cleaning fee of 50 Euros is charged each time the apartment is rented. Therefore, cleaning expenses do not reduce rental income.
Calculation of income from renting the apartment
Annual income - rental tax
18 630,00 euro (income) x 19% (rental tax) = 3 539,70 euro
18 630,00 euro – 3 539,70 euro = 15 090,30 euro
Annual income less rental tax, operating costs and property tax
15 090,30 euro – 450 euro (tax) – 2400 euro (costs) = 12 240,30 euro
Monthly Income
12 240,30 euro / 12 months = 1020,03 euro
Monthly Income (minus a monthly mortgage installment)
1020,03 euro – 600 euro (installment mortgage) = 420,3 euro
Return on invested capital
ROE = (420,3 euro x 12months)/ 51 300 euro) x 100% = 9,82 %
Return on equity invested is as much as 9.82%.
These calculations confirm the general trend in the Spanish property market. In the first quarter of 2018, the profitability of renting apartments in Spain reached an unusually high level of 7.8%. Market data confirms that you can earn up to 8% on your apartments. By transferring your funds to a bank deposit, you can expect a net profit margin of 1.5% 2.5%. Much more can be earned on real estate investments.
By investing in real estate in Spain, you not only secure passive income, but you also get a free apartment where you can spend long weeks. We have not yet considered one more important factor who can also convince you to invest in real estate in Spain -increase in the value of real estate over time. In 2017, the Spanish real estate market recorded the highest growth in the decade at 4.47%. If such a high rate will persist for several years then we can count on a really big profit in the case of selling real estate. For safety reasons, we can assume lower growth. Real estate price analysis show that in developed countries they grow on average at 1-2 percentage points above inflation. Bearing in mind the dynamics of the real estate market in Spain. We can expect a safe increase in property value of 2.2% per year. In next years, the projected rate of property value growth is much higher